Full Mouth Implants in Gurgaon
Get your fixed permanent teeth form experts in Gurgaon
Book Appointment
Full Mouth Implants in Gurgaon
Full mouth implants in Gurgaon by expert implantologist to help you get fixed permanent teeth.  If you have all teeth missing then full mouth rehabilitation is achieved either with a removable denture or fixed permanent implant teeth.  Dentures are more economical as compared to dental implant treatment. But, a Full mouth dental implant provides the most comfortable fixed teeth replacement.
Complete full-mouth implants are the most natural-looking and functionally efficient teeth replacement methods. Also, single jaw replacement is possible to successfully replace missing teeth in one jaw (upper or lower). The opposite natural teeth are retained if they are healthy and can stay for a few years.
We have one of the best implantologist at our dental clinic in Gurgaon for the best full mouth implant teeth replacement. Get the best dental implants in Gurgaon with the latest dental implant facility in sector 40 Gurgaon. Our implant specialists are experts and experienced in all types of dental implant procedures, You can get full mouth implants in Gurgaon through a variety of implant procedures like- All-on-4 implants, All-on-6 implants, Implant Dentures, and immediate basal implants.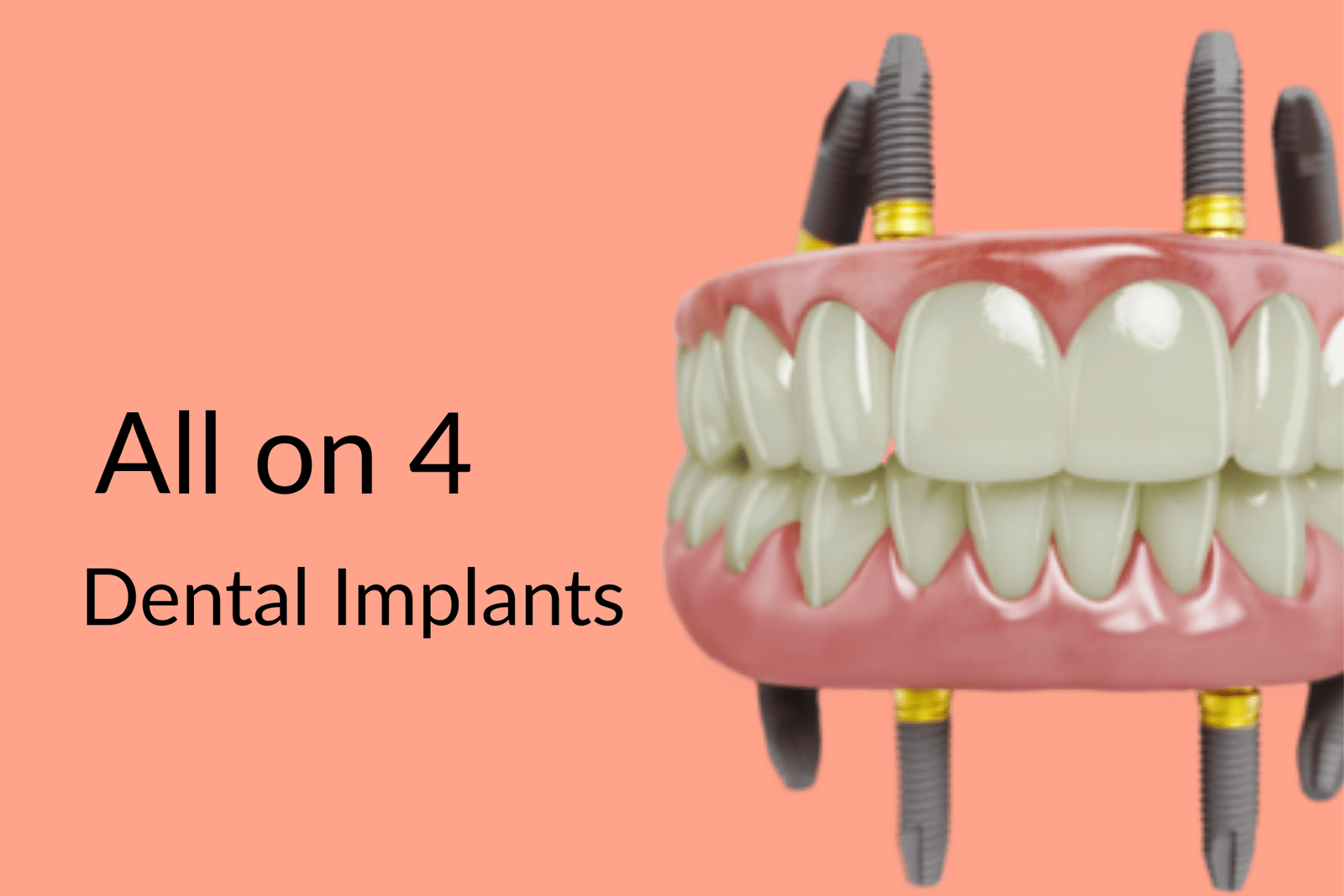 Permanently Fixed Teeth
Natural Looking
Eat Food Comfortably 
Talk Without Hesitation
Stay Healthy and Young 
Full Mouth Dental Implants – Types
All on 4 / All on 6 Implants
All on 4 or All on 6 Implants is one of the best and most economical method for the replacement of full arch in a jaw. All on 4 implant method is usefull for replacement of teeth in a jaw even in severe bone loss patients. For best All on 4 implants in Gurgaon contact our center now. 
Implant-supported Dentures
Dental implant supported dentures is one of the midway alternative for having stable teeth. A denture is supported with mini dental implants to give stability and restrict movement while chewing and speacking. Although implant supported dentures are not fully fixed into jaw bone. They provide increased stability for more comfort while eating and speaking. 
With a specialized German technology of using cortical support of the facial bone, one can get fixed permanent teeth in 3 days. Basal implants are very useful in patients with medical conditions that can not go for dental implants. Also in a severe jaw bone atrophy the basal implants have immediate stabilization without extensive procedures like bone grafting, sinus lift surgery, etc. 
Advantages of Dental Implants 
Dental implants look and feel like a natural tooth and improve your facial aesthetics.
Increased comfort with fixed dental implant teeth, unlike removable dentures.
Clear Speech is one of the most important features that are available only with dental implants.
Increased efficiency in chewing and biting your food with dental implants is beyond comparison with removable dentures.
Maintains your facial appearance as dental implants support your jaw bone and prevent bone loss.
Dental implant treatment is predictable and durable, with proper post-care, implants can last for life.
Prevents damaging the surrounding teeth as in the case of dental bridges.
Improves confidence as there is no fear of slipping as in the case of removable dentures.
Procedure for Dental Implant Surgery
Diagnosis & Treatment Planning
An expert implant dentist will check your gums and bone condition during the initial implant consultation. And evaluate your x-rays, OPG, and CBCT. After complete examination implant dentist will give you a detailed treatment plan for your tooth/teeth replacement. The dentist will provide you with how your teeth replacement will be done, how many dental implants will be placed, what kind of technique and implant will be used, how much time you need to get fixed tooth, do you require any bone graft for fixing your implant, and lot more.
Stage 1 Procedure
The first step of surgery is to place a dental implant in the jaw bone. The implantologist will numb the area of your jaw where the implant is to be placed. Then a gum flap is prepared to expose the underlying jaw bone. Drills are used for the drilling jaw bone to the desired length. An implant is placed and secured in the drilled bone. A cover screw is placed over the implant – abutment fixture. Gums are sutured back to hide the implant. Sutures are removed after a week. The entire procedure is carried out in local anesthesia and is painless. After surgery, you will be taking prescribed pain medication for relieving the pain.
Stage 2 Procedure
After a healing period of about 3 to 6 months, your second phase surgery will take place. In this step, the implantologist will again make the area numb with local anesthesia. The gums are separated over the implant. The cover screw is removed and a healing cap is placed at a place.
Stage 3 Procedure
After about one week, the final stage 3 procedure is performed. The implant surgeon will remove the healing cap and place an abutment over the implant. The impression for your capping is taken and send to the lab for preparation. After few days your cap is ready and a dentist will fit the cap to the abutment of the implant. Your bite is checked and adjusted. You are ready to eat your favorite food now.
Dental Implant- Specialized Techniques