Painless Tooth Removal Gurgaon
Get all types of tooth extractions in Gurgaon from an expert dentist.
Painless
Affordable
Experts
Book Appointment
Painless Tooth Removal in Gurgaon
Painless tooth removal in Gurgaon by an expert dentist at i-Smile Charitable Dental Clinic. Most of the time your damaged tooth or teeth needs removal (Extraction) by the dentist. Many people have heard a lot of things about tooth removal and with the advent of the internet, it is easy to watch complications in dental extraction. A person feels little or more apprehensive about tooth removal due to many such factors. The main concern is the pain involved during and after tooth removal.
With modern dental instruments, technology, and expert dentists you can get painless tooth removal in Gurgaon. We are one of the best dental clinics having an experienced dentist in Gurgaon for simple and complex tooth removal. We are also fully equipped for any complications of tooth removal at our dental center in sector 40 Gurgaon.
When do you Need a Tooth Removal?
Failed Root Canal Treatment
Painless Tooth Removal in Gurgaon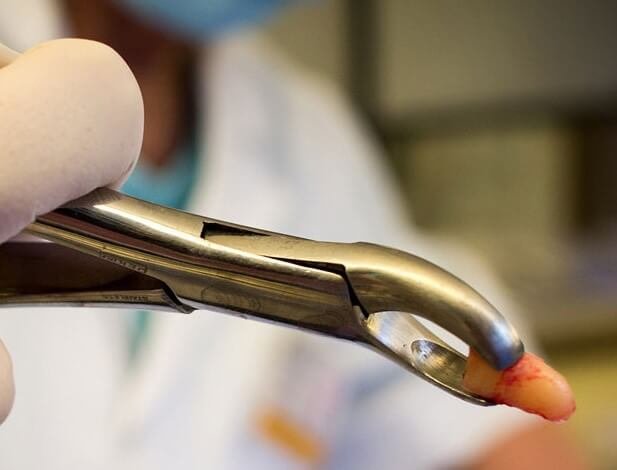 Procedure for Tooth Removal
Our expert and experienced dentists can provide you a
painless tooth removal in Gurgaon
. After a complete clinical check-up, a dentist will numb the area surrounding the tooth with local anesthesia. In about 2 to 10 minutes you will start feeling heavy on the face around the tooth. Once the area is numb, your dentist will separate the tooth from the gums with special surgical instruments. Once all the gums are separated with the help of elevators a dentist will move your tooth roots from the jaw bone. After the tooth is moved from the jaw bone, with the help of an extraction force a dentist will take your tooth out from the jaw bone. The wound will be cleaned with betadine and normal saline and a cotton pack is given that you will bite in for about 20 to 30 mins. You will be given post-operative medications and instructions that will help you to keep pain-free during your healing afterward.
With a complete pain-free tooth removal procedure followed by post-operative medications and instructions, you will be fit and healthy in a few days.